All about the Enclosed Booth
Our enclosed Photo booth is custom built by us to work just like a traditional photo booth, but with state-of-the-art technology. Featuring a clean, modern look, our booths are suitable for any venue. High glossy white walls, with LED lighting create a stunning effect. The LED lights can be set to any colour of your choice (or even multicoloured!) to match the décor of your event. Inside the booth, guests can begin their photo experience by using the HD touch screen immediately in front of them, and can even view their poses before the picture is taken! Once all 4 pictures are captured, a final compilation of their poses will be displayed in the chosen print style (i.e. 2x6 "film strip" style). Guests exit the booth, and two copies of their photos await them: one for the guest, and one for you (the client)! There's even an option to have these extra prints placed in a gorgeous archival album, which will be delivered to you at the end of the event. Note: every event includes a USB memory key containing all captured images.
Now with Twitter
and SMS!
Mouse over or press on various parts of our photo booth to read more about the booths unique features.
Standard Features
Includes delivery, set up and take-down
Professional Booth Attendant for worry-free operation
Digital SLR camera
High-speed commercial printer, 7 seconds per 4X6 print
Modern and elegant design
Customizable LED colour
Customized layout of photo strips including design
21" touch screen with preview
Optical zoom and robotic tilt presets
Professional flash lighting
Unlimited photos while booked
Awesome props table
Privacy curtains
Stanchions (black velvet ropes and chrome stands)
Free on-line client gallery to share after the event
USB key containing strips and full captured images
Social Sharing iPad Kiosk to share photo strips with SMS or Twitter! *
You can txt your photo strips to your phone!!!!!!

Perfect for:
Weddings
Corporate Events
Graduations
Private Functions
Fund raisers
Reunions
Indoor Sporting Events
Christmas Parties
& People who drink coffee, pop or water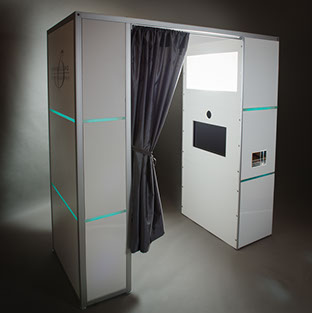 * feature subject to 3G and LTE mobile data availability